HÄR SYNS NÅGRA AV NILS PETERS OCH MATHILDAS AMERIKAÄTTLINGAR, SOM BESÖKT OSS I SVERIGE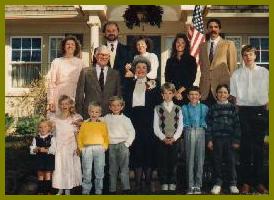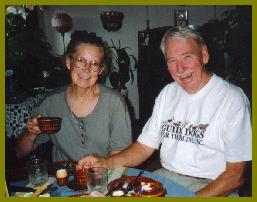 Dan Howes med familj i Colorado, JoAnn och Dudley Merk, New Mexico


Dans mormor, Nils Peters dotter Anna Edgren,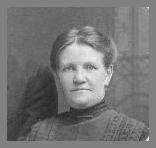 Dudleys mormor, Nils Peters dotter
Augusta Amanda Andersson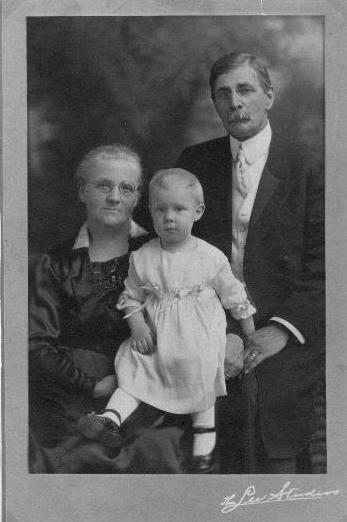 och hennes make Metodistpastorn Johan August Andersson med barnbarnet Frances Merk.

Jag har brevväxlat med en dotter till dem, som gett mig många värdefulla upplysningar om släkten i USA. Här ett utdrag ur ett av breven:
"Sept 18 79. Dear Rolf, We are so thrilled to receive your letter. I am going to try to give you all the information I can, I am Ruth- youngest daughter of John A. Anderson and Augusta Amanda. My own husband Phillip Mc Gee died just one year ago. I am living in a Hi Rise apt...... I am now the only one left of the seven children of John and Amanda.My brother Reuben was 4 years older than me and he died 2 years ago. I am 83 years old this year. I go to Wesley United Methodist Church and I am very active there. We have a wonderful minister. My son- Phillip Lloyd Reuben who was twin, is now 41 years old. His twin brother John Lawrence Henry, died at age 2 Phillip lives also in Minneapolis- so he comes over quite often. He has two children- Kathleen, May Ruth-age19. She goes to University of Minnesota and is sophomore this year. Phyllis Ellen- age 11. She is in 6th grade. My only daughter lives in San Jose, California, and she has two children. Gerald Dale Heath age 29, Peggy Ruth Heath age 25. Gerald has two children: Heidi- age 4, Chad- age 3.He is teaching this year- the 6th grade, in Fort Defiance, Arizona, so we are scattered around......Do you have any questions of my mothers brothers.....Mathilda ?, Sofia Charlotta stayed in Sweden, Emilia Juliana- stayed in Sweden, Augusta Amanda- my mother, Carl Henning, Anna Lovisa, married Eric Edgren, -more later. Alfrida- lived in Calif with Aunt Tillie- must be Justina Mathilda, August, Susanna? Ernst- He lived in Waukegan Ill. and I´ll tell you on the next page what I know about his children. He and wife both dead...Aunt Frieda (Alfrida) married a man in Sweden Andersson. Frieda was a nurse and took care of Mr Andersons wife in childbirth. The wife died and Aunt Frieda married Mr Anderson and brought up his child a girl- named Ebba and moved to Calif. near Ebba. Ebba has no children and her husband died. Aunt Tillie married a man in Calif. at a very late age. She also died, and Aunt Frieda and Aunt Tille were cremated....About Ernst- Two of his children lived with relatives for a while and then married and went east. I don´t know if they are living or not.... Ruth E.Mc Gee"

I have got following letter from a grandchildren to Ruth Mc Gee in february 2011:
"My father Phillip McGee passed away in Minneapolis, Minnesota on July 9th, 2008 of complications related to what is known here as COPG. Basically he had smoked much of his life and it compromised his lungs. He was a talented person who wrote poetry and music, and loved literature. He worked in security for his profession. Regarding my grandmother, Ruth Elsie (Anderson) McGee. She married my grandfather Phillip Henry McGee, against his families wishes. The story I always heard was that they met, fell in love and my grandfather, who was Catholic, asked his priest if he could marry my grandmother, the preist said he would go to hell if he did so. My grandfather told me that he moved to Chicago, Illinois for a time, figured he was living in hell anyway and came back and married Ruth. His family disowned and disinherited him after that. The only time I ever met any of his family was at funerals. During their marriage, out of respect for my Grandfather, my grandmother was not active in the church. After his passing, she became very active, teaching, playing piano and visiting older people who could not get out of their apartments. She had a deep faith in Jesus Christ, which greatly influenced me personally. Ruth was not afraid to voice her opinions on religion or politics or social issue of the day. She was one of only a few woman to obtain a bachelors degree from the University of Minnesota. She went on to teach mathmatics. In 1985 she was diagnosed with kidney cancer, which had spread through out her body. On August 20th, I went to visit her. Suddenly she started looking around the room intently, as if she were watching and listening to something. I asked her what she was doing. She said "There is an angel over there and one over by the door". She listened for another moment and said "Oh, they have come to take me home." I honestly wasn't sure what to think of this at the time. I though perhaps she was on too many drugs. The next day, I returned and she asked to get out of bed and sit. My aunt Phyllis (McGee) Heath was with me. We got her into a chair. I was kneeling in front of her and my aunt was behind her. Suddenly she looked up and I knew she was no longer there. She had left. I guess the angels really did come to get her. It was an awsome experience."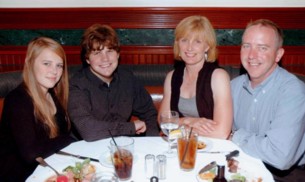 From left: Sara and Connor, Kathy and Patrick Jones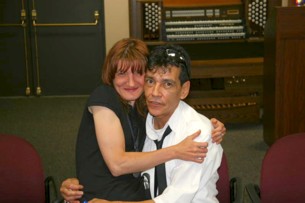 Phyllis Ellen McGee (Hernandez) and her husband Nick


Nils Peters yngste son Ernst Ericson med familj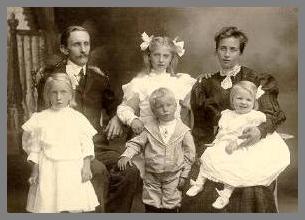 Ernst arbetade i sin ungdom i Grytgöl, som Fabriksarbetare. Han flyttade från Gubbängen till Grytgöls by år 1893, tillbaka till Gubbängen 1894, samma år som systern Sofie flyttade därifrån till Norrköping.En tid bodde Ernst i Landskrona år 1895, men kom tillbaka till Gubbängen 1896, samma år som systern Sofie flyttade till Landskrona. År 1896 var han en tid i Sjövik, Grytgöl hos morbrodern Carl Gustaf Sundin.Kom till Grytgöls by, troligtvis till Fridhem, i samma lägenhet som brodern Augusts svärmor, Änkan Sofia Wilhelmina Schanberg år 1898.Där bodde Ernst när han år 1900 gifte sig, och där föddes de första barnen. Familjen, flyttade till en annan lägenhet 1902 (hfl p.461). De emigrerade till USA år 1905. och kom först Ernst och Helen hade fem barn.till Chicago. Där bodde de senare i Waughegan Illinois, (Se foto).Efter föräldrarnas död bodde två av barnen hos släktingar och flyttade öster ut, enl. brev från Ernst systerdotter Rut McGee i Minneapolis. Inget vet något om dessa ättlingars fortsatta öden, eller om de ännu lever. Nya uppgifter i januari 2007: (Källa Waukegan Historical Society) Ernst lived in Illinois 4 years Immediate Cause of Death: Typhoid fever Place of Death Waukegan Ill.:1910-01-22 Place of Burial: Oakwood Hustrun Helena dog 1913-08-20. Den äldsta dottern Bertha gifte sig med William Harper vid 23 års ålder. De flyttade till Milwaukee Co., i Wisconsin där de bodde år 1930 med sönerna Norman och William och döttrarna Vivian och Marion. William Harper var inkallad som militär under första världskriget.

New informations here about this families.